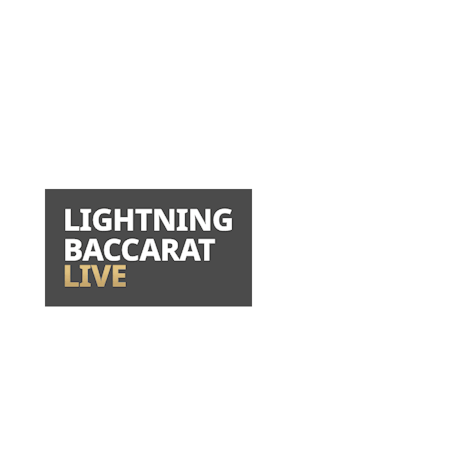 Lightning Baccarat
PLAY LIGHTNING BACCARAT WITH BET FAIR
The origins of baccarat are fascinating: many believe it was created in Italy around the 1400s by Felix Falguiere and that it has lived on through various iterations over the ages. Therefore, playing this game means you are partaking in an activity that has been popular for the best part of 600 years! This entertaining version combines the game you know with several electrifying features to enhance what is already a dramatic game. 
LIGHTNING BACCARAT FEATURES
Made with love by Evolution, every game round in Lightning Baccarat features randomly generated Lightning Cards. They can give your potential winnings a huge boost. There are plenty more surprises throughout the game to help keep you alert. 
All the action is brought you in front of a rather glamorous and artistic black and gold backdrop. That alone adds a new dimension to the game. 
HOW TO PLAY LIGHTNING BACCARAT
Before each deal, you can place a wager on whether your hand or the banker's hand will win by being closest to nine. You will also see the option to bet on a Tie. A 20% lightning fee is thrown into the mix once you have decided on how to play the hand. 
LIGHTNING BACCARAT BEST STRATEGIES
Many experts that the strategy to succeed in this game is money management. You also have to account for the element of luck and good fortune. 
LIGHTNING BACCARAT ODDS
Experts say that the player's hand will win 44.6% of the time. This is slightly lower than the banker's hand that has an almost 46% chance of coming out on top. Ties are less of a regular occurrence at just less than 10%
OTHER SUGGESTED GAMES
There are many more versions of baccarat to choose from. A prime example is Prestige Baccarat, which adds an extra level of glamour to the already lovely-looking experience.
ONLINE BETTING EXPERIENCE AT BETFAIR CASINO
Here at Betfair Casino, we have plenty more to offer players. If you fancy moving on to something different from baccarat, we offer lots more casino table games like Three Card Brag and Craps. Don't forget our live casino games with a real-time croupier, too!