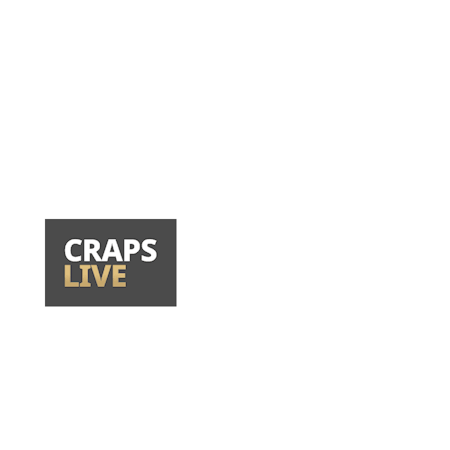 Craps Live
Craps is a dice game that is thought to have originated in Europe as early as the 11th Century, where it was commonly referred to as Hazard. Craps became the game we all know today when it gained popularity in New Orleans sometime in the early 19th Century.
As a favourite casino table game, Craps might seem like a complex affair, but it becomes very enjoyable once the rules and strategies are mastered. Craps remains one of the most active tables at most land-based casinos, but players can still enjoy this game through Craps online and Live Craps.
HOW TO PLAY CRAPS LIVE?
Craps live involves two identical dices and players aiming to land a total sum of seven, and how other combinations compare to this key outcome. As such, wagers are placed on the expected outcome of any given roll of the two dice.
Players in live Craps are referred to as shooters, and people can place their bets on various ends of the Craps table, the outcome always determined by what the shooter lands. During a round, shooters are required to place a 'pass' or 'don't pass' bet, more of which will be described below.
Shooters initial rolls by what is referred to as the 'come out roll'. If the come out roll is a 7 or 11, 'pass' bets wins and the round is called. If the come out roll is a 2, 3, or 12, the 'don't pass' bet wins.
On the other hand, if the shooter rolls a 4, 5, 6, 8, 9, or 10 during their come out roll, the outcome becomes the point, and the shooter continues rolling until they land the point again or if they roll a 7. If the shooter lands a 7, the 'don't pass' bets win, while other point numbers give a win to the 'pass' bets.
When the shooter is out, the round is over and the next player takes over and starts a new round.
Before playing live craps, find out what the different types of craps games are.
TYPE OF BETS IN CRAPS LIVE
When it comes to placing wagers during live online craps, players have a wide choice of bets to choose from, and these are not limited to the simple scenarios of winning or losing.
Pass Bet – one of the most common bets in live Craps, mostly due to a favourable house edge that makes this bet one of the best wagers across most casino games. This bet covers the shooter's come out roll. An immediate 7 or 11 lands a win for the pass bet, and a loss at 2 or 3. A point number landed after the come out roll lands a win for the pass bet.
Don't Pass Bet – the exact opposite of the Pass Bet, but players are looking for the shooter to lose.  An immediate 2 or 3 lands a win for the Don't Pass Bet, while a 7 or 11 land a loss. If the shooter then lands a 7 in the follow-up rolls, the Don't Pass Bet wins. -
Come Bet – a bet similar to the Pass Bet, but is placed during a round and generally after the point number is established. A 7 or 11 land a win, while a 2, 3, or 12 lands a loss. If the round continues, the shooter must land the point number before a 7 for the Come Bet to win.
Don't Come Bet – another bet that is placed while a round is in progress, but this time similar to the Don't Pass Bet. A 2, 3, or 12 will land a win, while a 7 or 11 will give a loss. If the round continues and the shooter lands a 7 before the point number, the Don't Come Bet will win.
There are other more specific bets that can be placed when enjoying live Craps, such as Big 6/8, Hard Ways, or Field Bets. These are described in further detail in our guide to playing Craps.
CRAPS STRATEGY
As with most casino table games, live online Craps is a game of pure chance. Despite this, understanding the different bets and when to make them is a very useful approach to landing wins at live Craps.
Players that are still getting used to this exciting table game should initially stick to the Pass and Don't Pass Bets, as these have a very favourable house edge. The second approach should be efficient bankroll management – it is never a good idea to place wagers that are higher than your bankroll.
Once you feel comfortable with the rules and different bets in Craps live, you can go ahead and test out riskier bets such as Big 6/8 or Hard Ways – these have a less favourable house edge but can yield a higher return.
ALTERNATIVES TO CRAPS
Craps live gives players a real casino feel – similar to the way this famous game is portrayed in blockbuster movies. But for those that prefer to stick to fictional Craps, they can still enjoy a wide selection of live dealer casino games at Betfair. These include several immersive casino games such as Immersive Roulette Live, Private Blackjack Live, Quantum Roulette Live, and more.
ONLINE BETTING EXPERIENCE AT BETFAIR CASINO
Craps Live and other live dealer casino games are just some of the many games that player can enjoy at Betfair Casino. Players that register for an account will gain instant access to hundreds of exclusive online slot games, jackpot games, and a dedicated poker section with several tournaments.
Betfair Casino also boasts a bespoke Sportsbook that covers all the best sporting events, tournaments, and championships. An online bingo hall for more casual players is also available – all of this is just a few minutes away after you complete our simple registration process.
PROMOTIONS
Players that sign up for a new Betfair Casino account will not only be able to access Craps Live and all this casino's great features, but they will also be welcomed with a new player bonus. This welcome offer is always tailored to meet players' needs, and it comes in the form of free slot spins, matching of deposit bonuses, and more!