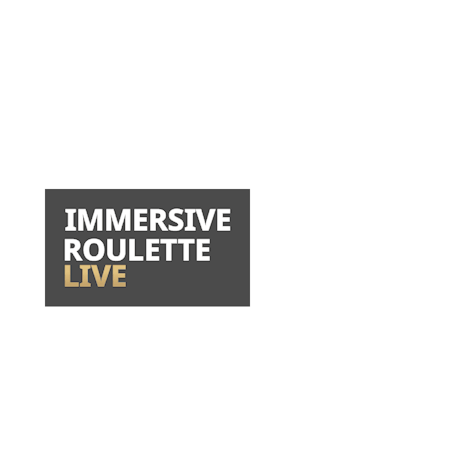 Immersive Roulette Live
Take your online roulette experience to a whole new level of atmosphere and excitement with Evolution Gaming's Live Immersive Roulette at Betfair Casino.
The game offers a high-quality, authentic roulette experience with an array of exciting features, including a host of betting options and multiple camera angles.
Ultimately, if you want to sample impressive live casino action, this could be the game for you.
LIVE IMMERSIVE ROULETTE FEATURES
Multiple cameras are used on Live Immersive Roulette and that means you always get a perfect view of the action on the wheel. The title also features slow-motion replays of those crucial moments when the ball finally rests on a number.
Live Immersive Roulette also includes a couple of great elements related to betting. You can use the Neighbour Bets button to place both those bets and other special bets easily, while the Favourite Bets option means you can save specific combinations.
HOW TO PLAY LIVE IMMERSIVE ROULETTE
To get started with Live Immersive Roulette:
Open the game at Betfair Casino
Wait for the green 'Place Your Bets' instruction
Use the Chip Display to select the value of your bet
Place your bet by pressing on the virtual game table
Wait and see what number comes up
LIVE IMMERSIVE ROULETTE ODDS
A whole host of odds are available on Live Immersive Roulette. For instance, the payouts on inside bets are:
Straight Up - 35:1
Split – 17:1
Street – 11:1
Corner – 8:1
Line – 5:1
Alternatively, the payouts on outside bets are:
Column - 2:1
Dozen – 2:1
Red/Black – 1:1
Even/Odd – 1:1
1-18/19-36 – 1:1
LIVE IMMERSIVE ROULETTE TIPS
Do you have tried and tested bets that you always go back to when playing roulette? Well, Live Immersive Roulette lets you keep them close at hand with Favourite Bets.
You can use the special feature to save specific betting combinations. The list can feature up to 15 bets, while you can also add different names to them.
OTHER SUGGESTED GAMES
If you are ready to try another roulette experience, why not mix things up with Lightning Roulette? Alternatively, you could check out other live casino experiences like Adventures Beyond Wonderland.
ONLINE BETTING EXPERIENCE AT BETFAIR CASINO
We offer a wide range of live casino gaming options at Betfair Casino, but there is plenty more to enjoy too. From sportsbook services to bingo and poker, you have so much to choose from.
Everyone loves a great deal and we also have plenty of promotions related to our casino services. These include some exciting welcome offers that are perfect for new customers.