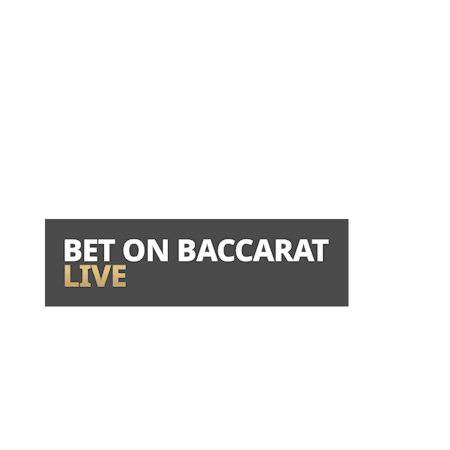 Live Bet On Baccarat
PLAY LIVE BET ON BACCARAT AT BETFAIR CASINO
Leveraging standard eight-deck baccarat rules, Live Bet on Baccarat from Playtech is another live casino game with a focus on reliability and performance. If you understand the offline game, then Live Bet on Baccarat should be no problem. This user-friendly title is well adapted to both mobile and desktop systems.
LIVE BET ON BACCARAT FEATURES
This title includes all the great features from regular baccarat, with the added convenience that only digital systems can bring. This includes useful information about how many bets players have made, the maximum win, and different types of odds, all clearly displayed and updated in real-time.
HOW TO PLAY LIVE BET ON BACCARAT
To get started in Live Bet on Baccarat, players first need to wait for a new round to start. Once a spot has opened, they press the betting panel, select their bet type and amount to wager. Pressing 'Place Bet' then locks them in for a round, per baccarat rules.
LIVE BET ON BACCARAT BEST STRATEGIES
Standard strategies in baccarat apply here. Some of these, like avoiding wagering on a tie because of the poor odds, are generally good practice for anyone. Otherwise, more advanced systems like betting on the banker or the Martingale strategy might help within certain bounds, just be sure to understand betting limits before giving these a try.
LIVE BET ON BACCARAT ODDS
The important odds in baccarat are as follows:
Player odds to win: 44.62%
Player odds to lose: 45.85%
Player odds to tie: 9.53%
Baccarat has harsher odds than many games, so players need to ensure they understand the game perfectly before jumping in.
OTHER SUGGESTED GAMES
Big baccarat fans might also want to consider heading to the baccarat live lobby to see what else is on offer. To check out the rest of our live offerings, the Betfair live casino section has everything you could need.
ONLINE BETTING EXPERIENCE AT BETFAIR CASINO
Live gaming is just one type of experience we at Betfair Casino pride ourselves on. Whether you're getting involved in our live game library or trying out our broad range of slots, be sure to claim a welcome offer before you begin, to help your deposit go further.