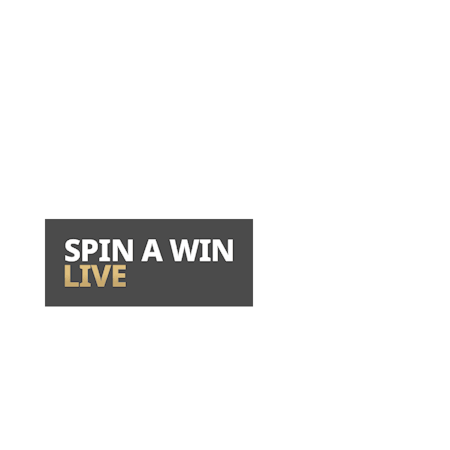 Live Spin a Win
PLAY LIVE SPIN A WIN AT BETFAIR CASINO
Spin A Win is a game where your fate (and prizes) are determined by a single spin of the glitzy wheel. If this thrills you as much as it does us, face up to the Playtech live Spin A Win game and give it a shot. Here, you can find what resembles a popping Wheel of Fortune-type operated in a real-time studio with professionally trained game hosts.
What's great is that Live Spin a Win is designed to fit and play beautifully on any device, so you can even try your luck on your phone, wherever you are. But if you ask us, the best parts of playing Live Spin A Win are the side bets. In fact, you can bet on as many options as you like, which may increase your winning possibilities.
However, it all comes together thanks to our colourful, friendly presenters who will entertain you from start to finish. So all in all, Spin A Win is worth playing because you'll have fun, win or lose.
HOW TO PLAY PLAYTECH LIVE SPIN A WIN ONLINE?
If you are new to live casino gaming, Live Spin a Win is a great entry-level game to enjoy. It's easy to pick up and play - simply bet on which segment the wheel will land on next and get paid handsomely if you pick correctly!
The player sees the host spin the wheel for each round of betting, with the wheel containing a host of numbers and additional win multiplier sectors landing you up to 7x your initial wager. If that's not enough betting action for you, Live Spin a Win also offers three side bets, allowing you to bet on whether the wheel lands on an odd, even or win multiplier segment.
You can place bets on any of the following numbers landing: one, two, five, ten, 20 and 40. There's also the addition of two win multiplier segments (2x and 7x). If you bet on a multiplier and it successfully lands, the game host will spin the wheel again to determine the winning number to be multiplied.
You'll only have a limited time window to bet on the next spin. The timer displayed in the game window will let you know how much time is left for bets to be placed. All winnings are paid out on a winning spin before bets are accepted for the next round.
LIVE SPIN A WIN STRATEGIES
This is a game of chance so there is no way to guarantee a win. However, there are a few ways you can maximize your chances of winning.  For example, the more segments you wager on, the lower your RTP (return to player) will be. So a good Live Spin A Win strategy is to stick with as few options as possible.
Moreover, the highest-paying bet is on the Odd side, whereas the highest-paying number is 2. So in theory, a combination bet of these two should yield nice results should it be successful. 
ALTERNATIVES TO LIVE SPIN A WIN?
If the Spin A Win isn't for you, you can enjoy more live casino game action in glorious real-time HD formats. Check out more Playtech-powered live dealer games that Betfair live players love:
ONLINE BETTING EXPERIENCE AT BETFAIR CASINO
These HD live-streamed online tables are fully immersive and can truly bring the casino to you. The games are run by professional hosts and dealers who can give beginners any extra attention they need. However, they also have lively personalities that will keep the energy high for seasoned players too.
On top of Spin A Win, you can also branch out onto a wider variety of casino games just by registering with Betfair Casino and collecting your welcome offer. This gives you the boost you need to explore our selection of live casino and table games, as well as our massive slots repertoire. There are even mega jackpots that can drop on the daily, and it could very well be you. 
BETFAIR PROMOTIONS
At Betfair Casino, we love to reward our players in a multitude of ways. We start by greeting you with a welcome offer. Then, as a registered Betfair player, you'll also be eligible for any Betfair promotions that will arise, ranging from bonuses, cash prizes, free spins, and perhaps even bigger prizes. We suggest you join us today and get started.