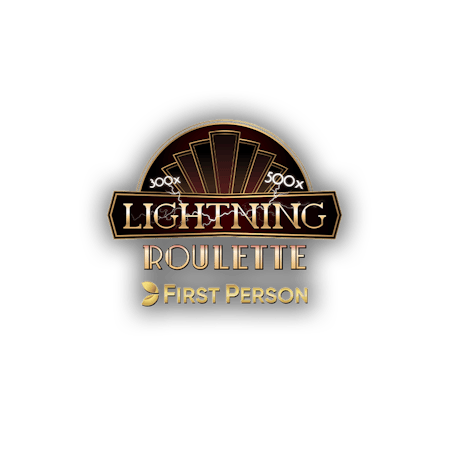 First Person Lightning Roulette™
PLAY FIRST PERSON LIGHTING ROULETTE AT BETFAIR CASINO
Evolution's First Person Lightning Roulette puts you directly on your own table of the much-loved live casino game, letting you look around and place your bets as and when you see fit. It's all about immersion in this roulette game, taking another step from the classic online casino games of old.
FIRST PERSON LIGHTING ROULETTE FEATURES
The big feature of this table game is the view. First Person Lightning Roulette immerses you in the game by showing it all from the point of view of someone at the table. Then, of course, there's the Lighting Roulette feature.
In each round, from one to five, the table will be struck by lightning, creating Lightning Numbers, which boost the odds to 49:1 up to 499:1. All that you need to do is bet on them, and if they win, you get increased returns.
As for the roulette gaming itself, First Person Lightning Roulette is a European roulette game – featuring only one zero pocket – and offers all of the betting options of the classic table game. So, you can bet on Straight Up, Corner Bet, Red/Black, Column Bet, and the rest, as well as all of the Neighbour Bets found on the Racetrack.
HOW TO PLAY FIRST PERSON LIGHTING ROULETTE
To play First Person Lightning Roulette, you first need to select your chip size at the bottom of the table. Next, click on numbers or zones that you'd like to bet on to place chips. As you hover over the betting areas, the highlighted zones will show you what you'd bet on if you touch the chips down. When you're ready, press the big Spin button to throw the ball into the spinning roulette wheel and see if your number has won.
ROULETTE EXISTING STRATEGIES
Roulette is a game of pure luck with a small house edge granted by the presence of the single zero pocket. Roulette strategies can't help you to win, but the likes of the Fibonacci ad D'Alembert are aimed at providing bankroll management.
OTHER SUGGESTED GAMES
If you like First Person Lightning Roulette, give Live Lightning Roulette or even Mini Roulette a try for more variation on the classic table game.
ONLINE BETTING EXPERIENCE AT BETFAIR CASINO
As a Betfair Casino player, you're welcome to claim a promo from our Promotions page, play a bit of bingo, and even bet on the sportsbook whenever you want.