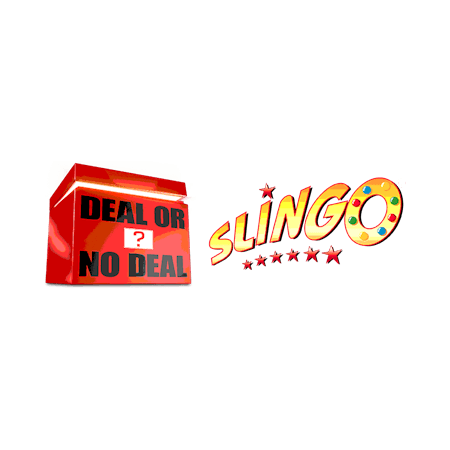 Deal or No Deal Slingo
DEAL OR NO DEAL © 2003 Endemol Shine IP B.V.
Put yourself in the hit television show's hot seat in Deal or No Deal Slingo and immerse yourself in this highly interactive Slingo! Played on a five-by-five grid, this Slingo Originals creation features unlimited Free Spins, a Prize Boost Ladder, and the Banker's Offer. Match the numbers on the reels to the digits on the boxes and walk away with the right deal at the right time.
FEATURES IN DEAL OR NO DEAL SLINGO 
Across this 12-win line online game, you can take advantage of the Banker's Offer. This feature becomes active after reaching four Slingos. When triggered, this component offers a cash prize that you can take, thus ending the game. Alternatively, you can open your box or keep spinning.   
For every Slingo, the Slingo Originals creation activates the Prize Boost Ladder. Between Slingos five and 12, a multiplier is applied to all remaining cash values. Achieve a Full House on the ladder, and the value of your box will multiply by x20. 
DEAL OR NO DEAL SLINGO SYMBOLS 
In Deal or No Deal Slingo, there are five types of symbols. Standard icons range from One to 75, and these emblems match with in-game boxes to reveal prizes. Once matched, the box in question disappears from the game.  
This prize-hunting combination of slots and bingo also incorporates numerous special symbols. Wild symbols take the form of a Joker. Whenever one of these lands on the reel, they can open one box in their respective column. Available options to open are highlighted within the title. Super Jokers, meanwhile, can open any box in the Deal or No Deal Slingo grid.  
As their name suggests, the yellow Free Spin symbols award you with an additional Free Spin, which is usable at the end of the game. The last special icon is the Devil, and this blocks potential matches. 
HOW TO PLAY DEAL OR NO DEAL SLINGO 
At the start of each game, you must place your wager in this television-inspired online slot. Then, similarly to the much-loved show, you select one box from a total of 26. You're then presented with ten Free Spins to open boxes and earn winnings. Each box on the grid possesses a random cash value. 
BONUSES AND FREE SPINS 
Deal or No Deal Slingo does offer Free Spins. Aside from the ten awarded at the start of the game, additional spins are collectable via the Free Spins symbol. There are, however, no bonus rounds in this five-by-five development. 
THE BEST STRATEGY FOR DEAL OR NO DEAL SLINGO 
To maximise the chance of success, you should complete your ten base spins, additional spins and open your box. Deal or No Deal Slingo's RTP is decent enough, but the Banker's Offer considers all remaining prizes and applies an additional 5 per cent margin. 
OTHER SUGGESTED GAMES 
If you're a fan of Slingo Games give it a try to Slingo Reel King.
ONLINE BETTING EXPERIENCE AT BETFAIR AND PROMOTIONS 
If you like Deal or No Deal Slingo, there are plenty more games like it at our casino. Along with Slingos, we also offer traditional slots, real-time games, and digital variants of casino activities, such as roulette. Enjoy our all-action titles while taking advantage of our available Free Spins sign-up bonus.