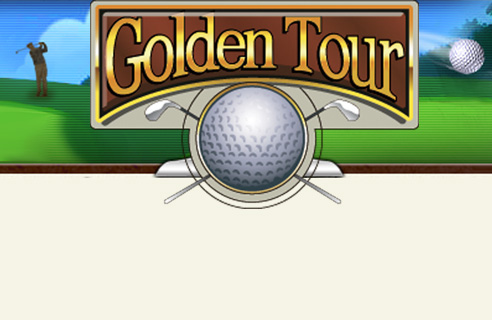 Golden Tour
Found in Slots
Your crisp pale blue polo shirt is neatly tucked into your neatly pressed khakis. A fitted baseball cap keeps the bright sun out of your eyes. It is the perfect day for a round of eighteen holes. The trees sway slightly as a gentle spring breeze wafts through the course and musical birds flutter about humming a pretty tune.
You have opted to carry your own bag and drive your own cart for the entire course, feeling confident that your chances are as good as anyone's on such a pristine day. As you approach the eighteenth hole you sling your bag off your shoulder and pick your lucky iron club, giving it a few careful swings for good luck. You tee up and eye the horizon.
A hush falls among the crowd and adrenaline surges through your veins and into the club. You flick your wrist back, swing the club, and watch the tiny ball soar into the distance, towards a pot of riches.
Golden Tour Slot Game Info:
Reels:  5
Win lines: 5
Game Features: Golf Club Bonus Game, Dollar Ball
Scatter Symbol: Gopher, Duck, Catfish
Wild Symbol: Double Golden Ball
About Golden Tour Slots
Golden Tour is a fantastic five-reeled themed slot game that combines the slow suspense of a game of golf with the fast paced winning of slot machines. The golf theme is excellent for those who enjoy sports and want a taste of the glory that professional golfers feel on a regular basis! But do not worry; you don't have to be Tiger Woods to win big in this game. Just give the reels a spin and see what fate has in store for just you.
How to Play Golden Tour Slots
When you play this Betfair Casino slot you'll be able to ante-up from as little as £0.01 using the Plus (+) and Minus (-) buttons toward the lower left corner of the screen.
As you scroll through the denominations (to a max coin size of £100), your selected bet amount will be displayed next to the reels on the left of the screen. As well as adjusting the coin size, this game allows you to stake up to five coins per spin which means the high rollers among you can wager as much as £50 per spin on Golden Tour.
The possible payouts for Golden Tour can be found under the "pay table" tab and winning combinations will use the following symbols: coloured golf balls, golf buggies, golf clubs, red flag, pint of beer, golf shoes and the Golden Tour slots logo.
When you play Golden Tour on Betfair Casino the golden golf balls are the most valuable symbol and are not only wild but worth an impressive 2,000 coins when you wager the maximum number of coins per spin.
To augment your overall EV, Golden Tour contains a number of added extras, including:
Golden Tour Scatter symbol
The Scatter symbols inside the Betfair Casino slot are the gophers, ducks, and catfish.  The Scatter symbols can appear on any payline to create a win, making winning that much easier in Golden Tour. When three or more Scatter symbols appear on the reels at the same time, the bonus round is activated.
Golden Tour Golf Club Bonus Game
When you receive three or more Scatter symbols anywhere on the round, this exciting feature is activated and the player has a chance to increase their winnings yet again.  In the bonus game, an assortment of golf clubs will appear on the screen.
During this game you must choose a putter, a driver, and an iron from the available options. Depending on which clubs you choose, you'll receive various sized prizes.
Additionally, if four Scatters started the bonus game initially, then the player's winnings will be tripled; if the bonus game was started with five Scatters, then your winnings are tripled by 10x!!
Dollar Ball Games
Bonus Games aren't the only chances to win big in Golden Tour. There is also a progressive jackpot feature in this game called Dollar Ball! In this part of the game you can choose five numbers out of 49. The computer then randomly presents five numbers and the more these numbers match your original selection, the more you can win.
To swing for the fences and try to score a hole in one, make sure you join Betfair Casino and start spinning Golden Tour's reels today.