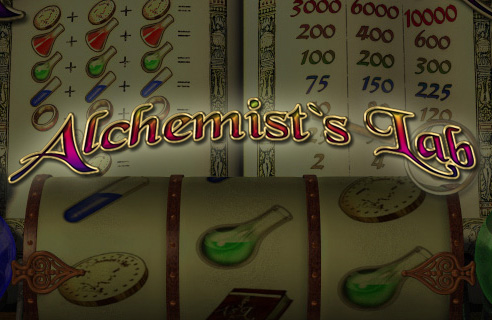 Alchemist's Lab
Found in Slots
790 Plays Today
Your back aches as you kneel behind the large oak tree, daring a peek every few minutes.  It has been two weeks that you have eyed the small, unassuming cabin, and you haven't noticed a single movement from within. 
Suddenly, the door creaks open and an elderly man in white robes hobbles out, bearing a heavy sack over his shoulder. He fumbles with his keys as he locks the rotting wooden door before briskly turning and making his way through the overgrown pasture down the hill.  Once he has disappeared from sight, you dart towards the cabin and easily pick the lock.  As your eyes adjust to the darkness your mouth hangs agape.
Pieces of gold and silver piled high to the ceiling! Tables filled with unknown potions in tumblers of varying sizes, some of which release a strange steam into the air.  Tattered books lie opened and scattered around the room.  Cobwebs dot the corners of the room and mice scurry underfoot. Your hand is just sliding over a mound of gold bricks when you hear a noise at the door and an elderly voice grumbling! The door flies open and you are blinded by a bright light!
Alchemist's Lab Slot Info:
Reels:  3
Paylines: 1
Game Features: Bonus Round
About Alchemist's Lab
Alchemist's Lab is a simple 3-reeled single-lined slot game that is perfect for beginners seeking a simple and easy way to spin the reels on Betfair Casino. True to its alchemy theme, the game consists of an array of secret potions. Alchemists were said to be highly intelligent individuals who tested the combinations of different substances in search of gold, silver and a potion for eternal youth! As an alchemist experiments with the elements in hopes of riches, the player should have similar hopes as he experiments in this game by spinning the reels and calculating his winnings.
How to play Alchemist's Lab 
Playing Alchemist's Lab is simple and fun. The coin value ranges from £0.01 to £1, which means your max stake can reach as high as £3 when you choose one of the following betting options. The player chooses either Bet One, Bet Two or Bet Max. Bet Max includes betting the maximum three coins per spin.
The player starts by simply clicking on one of the Bet options, which immediately sends the reels spinning before the player's winnings are revealed.  To win, the player must receive a winning combination of symbols on the payline. Wins inside the classic Betfair Casino slot range from 2 coins (1 gold coin symbol when betting one coin) to 10,000 coins (three gold coin symbols when you bet max and roll in the jackpot).
To ensure you always known how much each symbol is worth, there is a paytable across the top of the screen. Additionally, on the left hand side of the screen, a Win bottle of blue liquid illustrates any prizes you've banked at the end of a round.
Bonus Round
Despite boasting just three reels, Betfair Casino players can also access an exciting bonus feature when they play Alchemist's Lab. To unlock this bonus round, three book symbols must appear on the win line. If you can do this, your job is to then choose three bottles from the selection displayed on the screen. Each bottle has a mystery prize and once you've selected a bottle the rest will disappear and your bonus will be revealed.