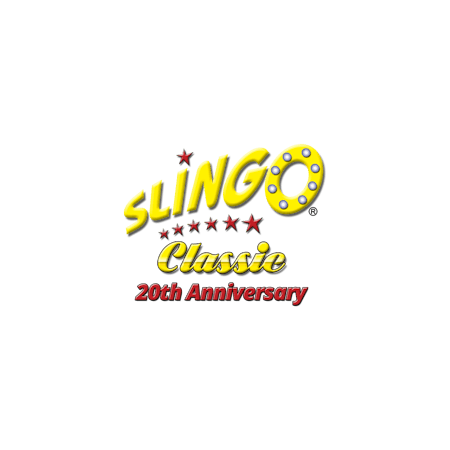 Slingo Classic
PLAY SLINGO CLASSIC AT BETFAIR CASINO 
Slingo Classic is the closest you're going to get to the original version of this popular game, which has been around now for two decades. Experience a throwback to the 90s (minus the crop tops and maxi skirts) at Betfair Casino. The entire idea of this game is to focus on the Slingo action rather than any fancy new graphics or mechanics.
HOW TO PLAY SLINGO CLASSIC
All you need to do in Slingo Classic is make Slingos, which are rows of numbers, on a 5x5 gameboard. These can be diagonal, vertical, or horizontal. However, unlike in bingo where a person calls out the ever-important numbers, the reels determine the fate of each turn in Slingo Classic. You can win up to 12,500 coins in this one.
SLINGO CLASSIC SYMBOLS
Bingo, which serves as this game's inspiration, seems a little tame compared to this equally retro experience. Slingo Classic includes additional symbols in the form of a joker (mark off any number in a column), super joker (mark off any number), and a coin (instant win). There's also a mischievous devil, which prevents you from claiming numbers.
BONUSES AND FREE SPINS
Whilst Slingo Classic doesn't have any bonus games in the modern sense, owing to its nostalgic theme, this variant on classic slots rewards players with a cash prize when three or more joker symbols of either type appear on the board. 
Have a free spins symbol appear on the reels to claim an extra spin. You start with 11 spins in Slingo Classic, but each turn depletes one from your tally.
OTHER SUGGESTED GAMES
Don't fancy something quite so stripped-back? Try another Slingo Originals-developed game, such as Slingo Reel King.
ONLINE BETTING EXPERIENCE AT BETFAIR CASINO
Whatever kind of gaming you're into, you'll find that there's much more to Betfair Casino than just our epic collection of online slots games.
Why not take a look at our money-saving promotions before trying out our classic casino game offerings including the likes of video-poker, roulette, and blackjack? 
We hope you have an enjoyable experience at the site. Please remember to gamble responsibly.