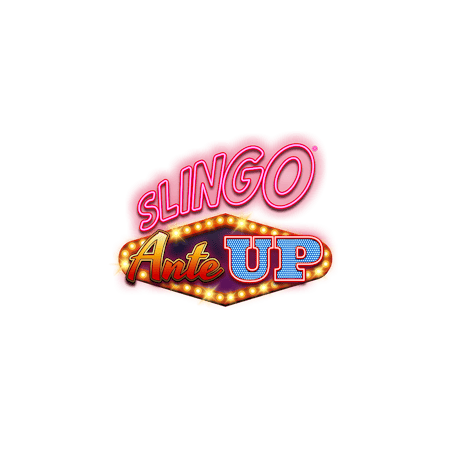 Slingo Ante Up
PLAY SLINGO ANTE UP AT BETFAIR CASINO
The Slingo developers at Gaming Realms like to do something new, and that's a goal they accomplish admirably with this bingo inspired slot. While we can't claim this game offers the biggest bonuses or the most special features, it is unique on a level that few slots manage to achieve. A real standout. 
Operating via a 5x5 bingo table, Slingo Ante Up sets the standard for what could be a whole new range of imaginative slot games. With a high level of customization and player input, Ante Up is a game that requires an active mind, and if that sounds like you, it's absolutely worth a look.
HOW TO PLAY SLINGO ANTE UP
To begin in Slingo Ante Up the player needs to select their base stake, and the total number of spins they want to engage. These options will change the payouts and the odds, so consider carefully. After that, the player simply hits the start game button.
Unlike traditional slot games, Slingo Ante Up operates like bingo. Each set of spins begins with a set board, and the spinning slots display sets of numbers that will mark off fixed numbers on this board. Payout is then determined by how many lines are collected in total, with a maximum 500x payout for a full house.
SLINGO ANTE UP SYMBOLS
Most symbols in Slingo Ante Up are basic numbers in the one to 80 range. Aside from these, also available are the green and blue J wilds, and red X blockers, which count as nothing. Lucky players can also claim a blue +1 free spin symbol.
BONUSES AND FREE SPINS
The blue and green J symbols operate as the most common bonuses in this game. The blue wild awards a free number choice in its column, while the green wild gives a free choice from any point on the board. Also available is the blue free spin symbol, which awards one additional spin in the current game.
OTHER SUGGESTED GAMES
Since Slingo Ante Up is such an unusual game, it's difficult to suggest anything similar other than related Slingo games. That said, if you're a fan of what Slingo does, then be sure to check out their similar titles to see what else they have on offer.
DIVE INTO THE WORLD OF BETFAIR CASINO
Whatever kind of gaming you're into, you'll find that there's much more to Betfair Casino than just our epic collection of online slots games.
Why not take a look at our money-saving promotions before trying out our classic casino game offerings including the likes of video-poker, roulette, and blackjack?