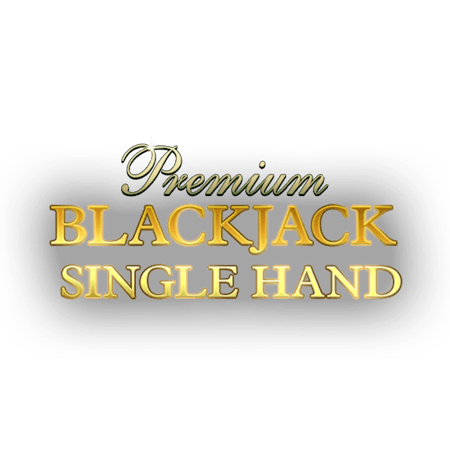 Premium Blackjack Single Hand
Many hands might make light work of most tasks, but when it comes to blackjack you'd rather be a singleton. Focusing on just one hand is one of the best ways to improve your focus and results, which is why Single Hand Blackjack here at Betfair Casino is the best way to play.
However, that's not the only reason to ante-up in this game. As well as better in-game dynamics, you'll also be able to place bets with a potential return of 100:1!
Game Info:
Single hand focus
Betting between £1 and £1,000
Bonus Bets: 21+3, Dealer's Pair and Player's Pair
Software Provider: Playtech
About the Game
Premium Blackjack Single Hand tables here at Betfair Casino might look like any other game of 21, but underneath the hood things are very different. Yes, the green baize and coloured betting chips from 1 to 500 will all look familiar, but it's the way the game flows that's a little different.
Scrolling through the chip denominations requires a click and drag motion (like you're swiping across a mobile screen) and you can speed up the action if you like by selecting "turbo mode". Once you're comfortable with the basic mechanics, betting starts from just £1 and you'll earn 1:1 payouts for a win and 3:2 for blackjack unless you choose one of the special bonus bets.
Premium Blackjack Single Hand Bonus Bets
 Premium Blackjack Single Hand stands out from the crowd for one simple reason: its bonus bets. To give you more bang for your buck, you can place up to three extra bets on the outcome of a round and win a massive 100:1 return on your stake. 
21+3 = This blackjack bonus bet is based on the value of your first two cards and the dealer's exposed card. After placing a minimum stake of £1 in the 21+3 box, you'll earn a return if one of the following outcomes occurs:
Suited Three of a Kind = 100:1
Straight Flush = 40:1
Three of a Kind = 30:1
Straight = 10:1
Flush = 5:1
 Beyond the 21+3 side bets, you can choose to bet on your hand and/or the dealer's hand being a pair:
Perfect Pair (exactly the same cards) = 25:1
Coloured Pair = 12:1
Red/Black Pair = 6:1
Overall, when you play Betfair Casino Premium Blackjack Single Hand, you'll not only have an innovative interface to focus on, but a myriad of ways to win some serious money.