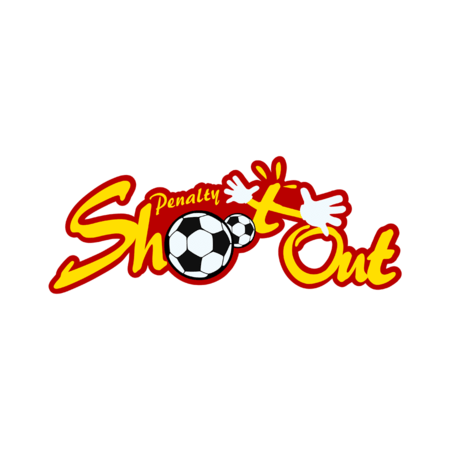 Penalty Shootout
The game is tied and both teams are exhausted. Everyone is hungry for the taste of victory but only one team will walk away triumphant. It only comes down to a couple of seconds to determine whether or not your team will advance. The pressure is on, but you are trying your best to stay cool! Winning this game could mean everything to your career!
A Penalty Shootout can be a maddening event for any footballer, but now is your chance to emerge a champion as the eyes of an entire stadium look upon you! The stakes are high and the future of the season is on your shoulders. Do you take a risk and go for a difficult shot or play it safe with something you know the keeper can't block? Take a deep breath, line up your shot, and get ready to shine in the ultimate Penalty Shootout!
About Penalty Shootout
If you're a fan of football, you'll love Penalty Shootout. Based on the same format you'd find in the sporting world, this online casino game basically gives you the ability to bet on the outcome of a shootout.
Although you won't have direct control of the goalkeeper, you can make your best guess at how things will go and, if you're predictive powers and the angle of your shot are on point, you'll win some serious cash.
How to Play Penalty Shootout
When you first step onto the pitch and compose yourself you'll need to decide how much you want to stake. Using the + and - buttons, you'll be able to adjust your bet from as little as £0.25 and as much as £1,000. Naturally, the upper limits will only be viable for the high rollers of this world, but with a plethora of increments to choose from, there will be a wager that's suitable for everyone.
After setting your bets you'll need to line up your shot. You will be provided with a variety of shot options against the goalkeeper and attached to each option will be a multiplier.
Odds are determined depending on the direction of your strike. Opt for a more difficult shot (top left or right hand corner) for odds of 12X, or play it safe with a shot straight down the middle for odds of 5X. With a successful score, your stake will be multiplied by the odds multiplier based on the directional arrow of your shot.
Once you have chosen your bet and lined up your shot, the final thing you have to do is press the Kick button and wait to see if the goalkeeper can stop your shot.
Your results will be automatically displayed in the middle of the screen. You will not win the round if the goalkeeper blocks your shot. If your shot successfully makes it into the goal, then you will win that round. Whether you win or lose, you can continue on to a new round. Click Continue to select bets and change your kick alignment and kick again.
Finally, to give you a better chance of winning, the goalkeeper's movement are tracked on the right-hand side of the screen, so you can see if they tend to prefer a certain angle when you shoot.
To test your football skills and win some serious money, join Betfair Casino and play Penalty Shootout today.