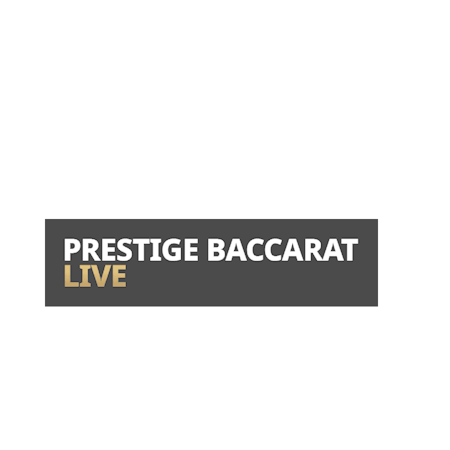 Live Prestige Baccarat
PLAY LIVE PRESTIGE BACCARAT AT BETFAIR CASINO
A must for all baccarat fans, this game brings you all the excitement of the live casino experience wherever and whenever you want to play it. 
As well as betting on the player, the banker or the tie, there's a whole range of side bets you can make from whether a pair will turn up or even on the number of cards that will be dealt in a round. Plus, look out for the Lucky Multiplier that can appear at any time on your side bets. 
LIVE PRESTIGE BACCARAT SYMBOLS
The symbols on the screen make placing your bet, doubling it and even undoing it simple. Plus, there's an on-screen menu that gives you access to everything from the full rules and instructions to options to let you change the audio and video settings.
HOW TO PLAY LIVE PRESTIGE BACCARAT
The rules are simple, and standard. You place your bet on the banker, player or on a tie, as well as making any side bets you want to make. The live dealer deals two cards each to the player and banker and the nearest to 9 wins. Aces count as one, number cards are at their face value and picture cards count as 0. Hands adding up to ten or over have ten subtracted from them.
So, for example, 9 + 7 =16 making a result of 6. 
LIVE PRESTIGE BACCARAT ODDS
You'll benefit from these odds in the game:
Player 1:1
Banker 0.95:1
Tie 8-100:1
Player Pair 11-100:1
Banker Pair 11-100:1
Perfect Pair 25-100:1
Either Pair 5-100:1
Big 0.54:1
Small 1.5:1
Egalite 0 150:1
Egalite 1 215:1
Egalite 2 220:1
Egalite 3 220:1
Egalite 4 120:1 
Here's a guide on how to play baccarat with various tips and tricks.
OTHER SUGGESTED GAMES
Once you've experienced the live casino you may well want to explore some of the other games that we have in store for you, from roulette to blackjack and even Money Drop Live. 
DIVE INTO THE WORLD OF BETFAIR CASINO
Whatever kind of gaming you're into, you'll find that there's much more to Betfair Casino than just our epic collection of online slots games.
Why not take a look at our money-saving promotions before trying out our classic casino game offerings including the likes of video-poker, roulette, and blackjack? 
We hope you have an enjoyable experience at the site. Please remember to gamble responsibly.