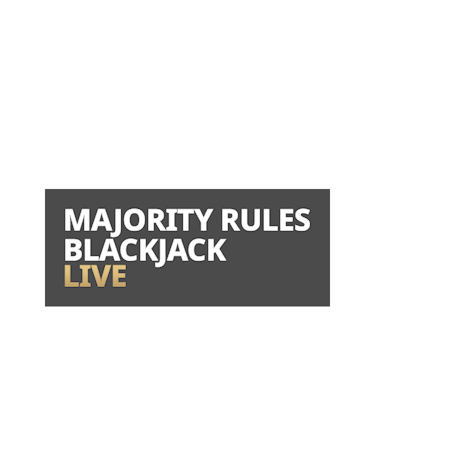 Live Majority Rules Blackjack
PLAY MAJORITY RULES BLACKJACK AT BETFAIR CASINO
Are you in the mood for a fast-paced table game? Then Majority Rules Blackjack is the game for you. The game by Playtech is live-streamed, and ran by a professional live dealer on a real-life blackjack table.
MAJORITY RULES BLACKJACK FEATURES
Majority Rules Blackjack features include:
An authentic casino gaming experience from the comfort of your home;
Majority rules mode, where all players get to vote on which action is taken next;
Optional insurance for an extra chance to win;
Real-life dealers for an interactive online experience;
High-speed gaming and the chance to win lucrative prizes;
Side bets with payouts of up to 100:1.
HOW TO PLAY MAJORITY RULES BLACKJACK
As with all forms of classic blackjack, the aim of the game is simple: to get your total closer to 21 than the dealer's without going bust. However, Majority Rules Blackjack is a special game, and so it has some additional rules to go with it.
There are two game modes that you can play: either majority rules, or best strategy. These modes are activated based on the number of players there are on a seat.
When the majority rules mode is activated, all of the players on a seat have to vote on which action they want to take next. Consensus dictates whether they hit, stand, double, or split, with the outcome affecting each of them.
When the best strategy mode is active, players don't get to vote themselves. Instead, your hand is automatically played according to the best strategy flow.
If it's enabled, insurance could also be offered to each player separately. This gives you a greater chance of winning, upping your prize potential if you wager correctly.
Majority Rules Blackjack is played with eight decks, and there are no limits on how many people can play, meaning lots of collective brains may be working together to pick out the best approach. If you've ever wondered what a hive mind looks like, see it in action here!
We cover more advanced strategies in detail in our guide dedicated to Blackjack strategies.
PAYOUTS
So, what do the prizes look like if you're victorious? Well, you can expect a payout that's something like this:
Blackjack – 3:2
Insurance – 2:1
Winning hand – 1:1
Ergo, a bet of 100 would return profits of 150 if you were lucky enough to score a blackjack.
ONLINE BETTING EXPERIENCE AT BETFAIR CASINO
Blackjack is one of the more popular table games because of its significant house edge, And sure, a solid basic blackjack strategy will take you further
Our online casino and live casino bring you a fantastic selection of table games, online slots, and live dealer titles, from live blackjack and roulette to baccarat, poker, slots, Megaways, and more.
PROMOTIONS
Check the latest casino promotions and our daily FREE game Prize Pinball: we put the fair in fair play – so you can make that experience last longer for less.
How will fickle fortune treat you? Play today at Betfair Casino to find out!