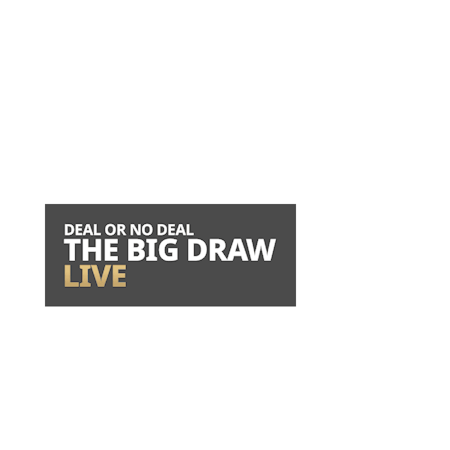 Live Deal or No Deal - The Big Draw!
DEAL OR NO DEAL ® and © 2003 Endemol Shine IP B.V.
PLAY DEAL OR NO DEAL - THE BIG DRAW AT BETFAIR CASINO
If you love live dealer offerings with a game show theme, you will not want to miss Playtech's Deal or No Deal - The Big Draw at Betfair Casino. This thrilling title combines elements of the classic TV show with live gambling for an enjoyable experience that appeals to many players.
HOW TO PLAY DEAL OR NO DEAL - THE BIG DRAW
If you've seen the TV series presented by Noel Edmonds, you'll have a good idea of the format for this game. It follows the same 16 box system, with players having one numbered box in their possession.
When the game starts, you'll get a ticket with 15 numbers on it, along with the 16th numbered suitcase, which belongs to you. Boxes then begin to be drawn at random, revealing cash amounts underneath. These numbers are then represented in the banker's bar.
When there are seven numbers in the banker's bar, you'll get a phone call with your first offer. You can choose to accept the prize, or refuse and continue playing. If you get all the way to the end without accepting an offer, you'll receive the amount in your suitcase.
DEAL OR NO DEAL - THE BIG DRAW BEST STRATEGIES
This is the type of game where you'll need to use tactics. Before you get started, decide on an offer that you'd be willing to accept, and then take it if the banker presents it to you.
OTHER SUGGESTED GAMES
If you can't get enough of the Deal or No Deal theme, be sure to check out some of the branded slots at Betfair. These include the likes of Deal or No Deal Golden Box Megaways, and Deal or No Deal Double Action.
DIVE INTO THE WORLD OF BETFAIR CASINO
Whatever kind of gaming you're into, you'll find that there's much more to Betfair Casino than just our epic collection of online slots games.
Why not take a look at our money-saving promotions before trying out our classic casino game offerings including the likes of video-poker, roulette, and blackjack? 
We hope you have an enjoyable experience at the site. Please remember to gamble responsibly.