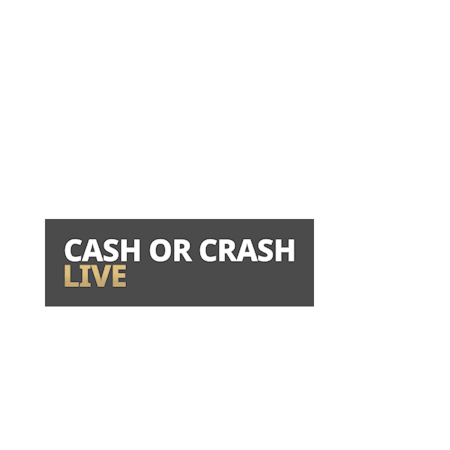 Live Cash or Crash
PLAY CASH OR CRASH AT BETFAIR CASINO  
Cash or Crash is a live casino game with a twist. Set on a blimp, players have the opportunity to take to the skies by claiming potential rewards. The key? Climb the 20-step paytable by selecting the correct coloured balls. If they match what comes out of the ball machine, the blimp will cruise through the clouds while you build your winnings. If they don't, you'll lose altitude!   
All you must do is land as many green balls as possible and avoid the red balls. Get ready to enjoy Evolution Gaming's original, AR-inspired game, as well as the anticipation of the tactical gameplay.  
CASH OR CRASH SYMBOLS
 A ball machine is in the middle of the studio, handled by an expert flight attendant  
The ladder-style paytable features 20 steps  
Green, red and gold determine your fate by increasing the payouts  
A multiplier of 50,000x your bet is available    
HOW TO PLAY CASH OR CRASH
The Cash or Crash casino game is simple to follow. During the base game, the green balls will take you further up the ladder, while the red ones will check your progress. When the Gold Ball Bonus Round is triggered, you don't have to worry about crashing because Cash or Crash's gold balls stop you from descending. Regardless of whether you've played before, the rules aren't confusing.
Getting the blimp airborne requires very little specialised knowledge since you just need to pick your stake by selecting the total bet amount at the bottom of the screen. The action begins once you have placed your bet, and after every round, you get the chance to choose the Take All, Take Half and Continue buttons. Depending on which one you pick, you can secure your winnings, split them, or remain on a set course when you play the Cash or Crash live casino game.   
OTHER SUGGESTED GAMES 
Would you prefer to keep your feet on the ground? That's not a problem because Betfair Casino has popular live games that may be right up your street. For instance, we have several live roulette services waiting for you at the roulette lobby.    
ONLINE BETTING EXPERIENCE AT BETFAIR CASINO 
As well as Cash or Crash, online casino fans can play poker, blackjack, slots, and bingo games, to name a few. Plus, there are offers waiting for you to claim.