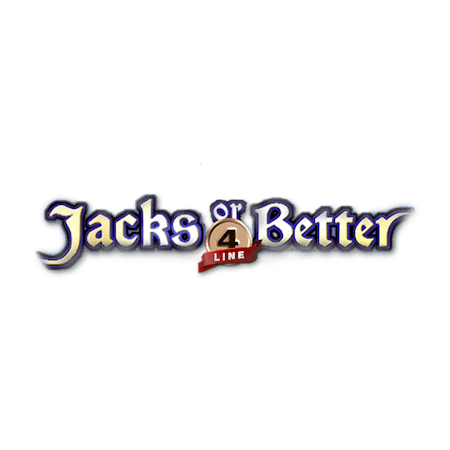 Jacks or Better 4 Lines
You sigh heavily as you sit in the tacky brightly coloured waiting room. A glass ball sits atop a faux golden holder, paintings of magical nymphs decorate the wall, and there is an abundance of tie-dye fabric in the room.
'This is going to be one of the weirdest things you have ever wasted money on,' you think to yourself. Soon you find yourself sat across from an older woman with frizzy greying curls and a hard-to-place accent. She's tossing cards at you and asking you to turn them over as she explains who you will marry, how much money you will have, and how unhappy you will be for the rest of your life.
She rambles on and on about how important your friend Jack is in your life and you stifle a giggle, trying not to let it out that you've never even met anyone named Jack before. You hand her a couple pounds and leave the room giggling with your friends.
Later that night at a poker bar you're still giggling about the crazy witch from earlier as the dealer deals your hand. You're chuckling ceases, however, when you pick up your hand and find FOUR Jacks staring back at you! Jack is a great friend, indeed!
Jacks or Better 4 Game Info:
How to Play
The aim of 4-Line Jacks or Better on Betfair Casino is to make a winning five-card poker hand. As you'd expected, the main difference between the 4-Line game and traditional Jacks or Better game is that it has four lines of cards instead of one. Moreover, each hand uses its own deck of cards, which means all four hands are considered separate hands.
4-Line Jacks or Better Payout Table
To earn a return on your investment during a game of 4-Line Jacks or Better on Betfair Casino, the aim of the game is to make one of the following ranked hands:
Royal Flush
Straight Flush
Four of a Kind
Full House
Flush
Straight
Three of a Kind
Two Pairs
Jacks or Better
When you refer to the payout table in the top right of the gaming screen, you'll notice that the amount you can win increases incrementally depending on how many coins you stake. For example, the payout for two pairs when you stake one coin is 2X on your bet. As you bet more coins this payout increased by a multiple of that figure, e.g. four coins will generate an 8X return.
4-Line Jacks or Better Betting
To start a new betting round, the player must first choose how much they would like to bet by using the plus (+) and minus (-) keys.. The player can click Bet One to add one coin on a bet line or Bet Max to bet the maximum number of coins (five) per line. Betting in 4-Line Jacks or Better video poker is starts from £0.04 per round (when the coin size is set to £0.01). At the highest level it's possible to set the coin size to £20, which means hitting Bet One will cost £80 and betting the max (five coins) will cost £400 per round.
Once all bets have been placed according to the player's preferences, he or she can click Deal to receive their hand. The player must then click on the cards (or the Hold button) they would like to keep and click Deal for the second time to replace those he does not want to keep. Once cards have been replaced, payouts will be paid accordingly on all winning hands.
As the name of the game indicates, the lowest winning hand possible is a pair of jacks. Therefore, pairs of lower ranked cards will not be considered as winning combinations.
Doubling
Players who have winning hands can click Collect to collect their winnings or click Double to gamble and try to double their winnings. Doubling involves the dealer placing one card face up and four cards face down on the table.
The aim of this game is to find a card that is higher than the face-up card to win the round and double your winnings. If the player ties with the dealer, they can collect their original winnings and opt to try to double again. The player can also choose to Double Half, which means half their original prize will be used to gamble in this game of "find a higher card."