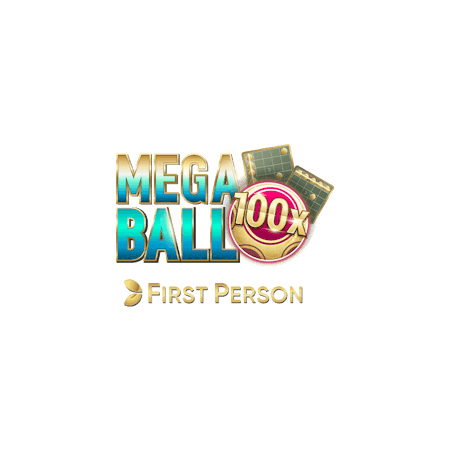 First Person Mega Ball™
PLAY FIRST PERSON MEGA BALL AT BETFAIR CASINO
If you're a lover of lottery-style games but don't fancy competing against millions of people, First Person Mega Ball might just be the game for you. In this supreme non-live experience, you get to adjust your ticket numbers, see the balls leave the orb, and you might even land a Mega Ball Bonus.
FIRST PERSON MEGA BALL FEATURES
Initially brought to you as a live casino game by Evolution, the developers have crafted First Person Mega Ball to offer those who want to play at their own pace a chance to try the increasingly popular format. Immersion and options are the pillars of this experience, even to the extent that you can amend the numbers on the cards that you buy with the Refresh Numbers button.
The giant orb in the middle of your screen hosts 51 balls, with you needing to land any possible straight-line combination of them on your cards. Luckily for anyone who opts to buy ten, 25, or even 100 cards, the positions on the 5x5 cards are automatically dabbed as the game progresses.
First Person Mega Ball's big feature is, of course, the Mega Ball Bonus. At the end of every main game round – after 20 balls are drawn – up to two Mega Ball Bonus rounds can take place. For this, the Mega Ball Multiplier from 5x to 100x is randomly assigned to a remaining ball drawn from the orb. If the number completes any of your lines, the Mega Ball will multiply that card's payout.
HOW TO PLAY FIRST PERSON MEGA BALL
Once you enter the studio of First Person Mega Ball, you'll need to set your Value with the plus and minus buttons at the base of the screen. This will adjust the value and cost of the Cards. Next, select if you want to buy the one, ten, 25, or 100 Cards options to get up to 400 Cards for the next game.
When you're all set, press the green Play button to get a game underway. You'll see 20 balls drawn, with winning numbers being ticked off from all of your Cards. Your aim is to get at least one Line of numbers on a Card to get a return. After this initial round, you could get a Mega Ball number to complete a line and multiply the win.
OTHER SUGGESTED GAMES
Evolution have created many novel live casino games like Mega Ball, so you might also enjoy Cash or Crash Live or perhaps Gonzo's Treasure Hunt Live.
ONLINE BETTING EXPERIENCE AT BETFAIR CASINO
Betfair Casino is all about offering you a premium online gaming experience, which is why you can grab Promotions regularly and drift from the Live Casino into Slots or Poker at any time.