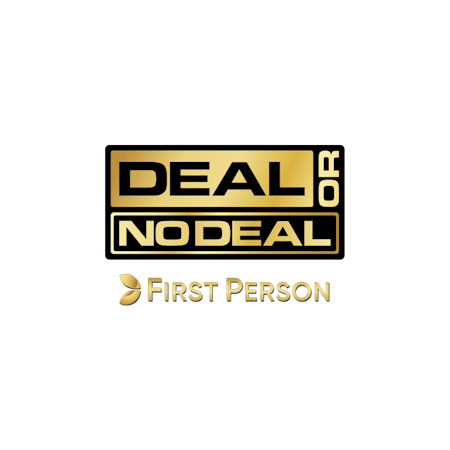 First Person Deal or No Deal
PLAY FIRST PERSON DEAL OR NO DEAL AT BETFAIR CASINO
First Person Deal or No Deal is an innovative title from Evolution Gaming that combines live casino gaming and RNG software. This allows players to choose whether they want to play live or simply enjoy their conventional gaming experience. In this game, players will get to play a variation of Deal or No Deal where they can earn up to 500x their wager. Are you ready to beat the banker?
FIRST PERSON DEAL OR NO DEAL FEATURES
Much like in the original game show, in First Person Deal or No Deal players will have to guess which briefcase contains the biggest prize. To do this, players must go through three stages. The first one is the qualification round: players pick a bet and must spin the wheel until they align the gold sectors to unlock the safe. Every spin here increases the final value of the briefcase containing the highest prize. 
As soon as players qualify, they get to choose whether they want to top up or advance to the final game show. If they choose to top up, a wheel will appear on the screen and players can pick any golden box and then place a bet to try to increase the value of the selected briefcase. Once the players are done with this feature they move on to the game show. In this round, players pick the main briefcase and then briefcases start to randomly open. At this point, the banker will offer users a chance to keep the briefcase or continue playing. There will be four offers and the final offer will feature three options: deal, no deal, and switch briefcase.
HOW TO PLAY FIRST PERSON DEAL OR NO DEAL
It is easy to get started on this game. Players only need to enter the game, pick their bet and the type of qualification (which can range from normal to instant) and then spin. Once players have qualified for the next stages, they only need to follow the instruction on the screen. To enter the live Deal or No Deal room, players only need to select "Go Live" on the right bottom side of the screen.
OTHER SUGGESTED GAMES
Interested in discovering other popular live games? Check out our live casino game section and play titles such as Who Wants To Be A Millionaire? Live Roulette or Live Money Drop.
ONLINE BETTING EXPERIENCE AT BETFAIR CASINO 
Betfair Casino is proud to feature a wide selection of some of the best and most innovative casino game titles. In addition, whether you're into poker, slingo or live casino you should always keep an eye out for any exclusive offers on our promotions page.