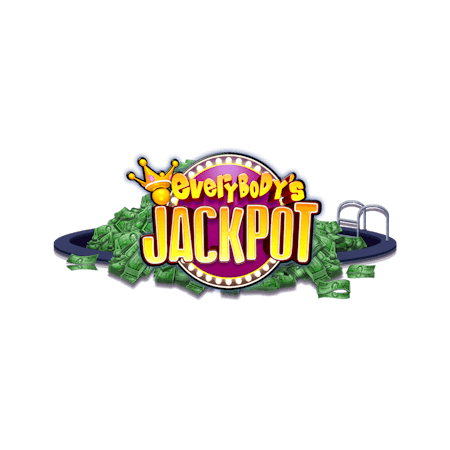 Everybody's Jackpot
You roll your eyes as you drop your last coin in the slot and pull the lever. Stifling a yawn, you watch the reels spin around, but you can't stifle the shrieks of joy that emit upon seeing the screen light up to reveal that you have won the jackpot! The thinning crowd around you stares at you in disbelief as you jump around and do a victory dance.
"Hey everybody!" you call out to the complete strangers "Drinks on me!" The formerly taciturn crowd becomes suddenly jovial as they realise that this is Betfair Casino and this is Everyone's Jackpot.
EVERYBODY'S JACKPOT SLOT GAME INFO:
Reels:  9
Lines: 8
Bonus Features: Mystery Progressive Jackpot
Scatter symbol: Everybody's Jackpot logo
Wild symbol: the word 'Wild'
ABOUT EVERYBODY'S JACKPOT SLOT GAME
Some online slot machine games feel like they are catering to a very specific population that doesn't include you. Whether it's fairy princess or cage fighting themes, you occasionally feel as though you don't quite fit in.
Even though the winnings are what you are after, it'd be nice to play a no-frills slot game that gets straight to the point every once in a while. That's why Everybody's Jackpot is great: because it was designed with everybody in mind! The game is perfect for those who want to win…and isn't that everyone?
HOW TO PLAY EVERYBODY'S JACKPOT SLOT 
From a betting perspective, the Betfair Casino slot offers eight win lines and line-bets starting from as little as £0.01; however, if you want something a little juicier, you can bump the line bet up to £5 which, when you multiply this by eight win lines, takes your overall stake to £40.
Regardless of the stakes, you play for, you'll be able to earn at least four coins if you can match the lowest-ranked symbol (Q card symbol). As you climb the payout ladder and roll in three matching symbols such as the gold watch, dollar bills and gold bars you'll be able to claim as much as 250 coins.
To help increase your chances of winning you can roll in a wild symbol during the free spins round to help create more valid combinations. However, if you're really looking for a major payout, you'll need to roll in the Everybody's Jackpot scatter symbol. In addition to offering you as many as 200 coins, this symbol will reward you with as many as 12 free spins which can continue you indefinitely.
MYSTERY PROGRESSIVE JACKPOT
One of the most exciting and rewarding features of this game is the Mystery Progressive Jackpot. The way it works is that every player who has made a bet of at least £36.28 in the last 24 hours is automatically entered into the game and eligible to win.
If a player is unsure whether they qualify or not, they can check the qualifying meter on the side of the reels, which displays the six levels of progress for qualification for this round. The Mystery Progressive Jackpot is won completely at random and can be triggered by any spin, regardless of whether that spin also revealed a winning combination or not! This means that even if you see a non-winning symbol combination flash across the screen, there is still a chance that you could win some sweet cash!
The prize is divided up as follows: 70% of the winnings goes to the player whose spin triggered the win, 15% is equally distributed to all of the qualifying players, and the final 15% is distributed to all of the players in proportion to the bets they have made in the past 24 hours (i.e. the more bets a player has made, the bigger his share is).
Better yet, even if a player has quit the game, they can still win the jackpot if they placed a bet and had reached the appropriate qualifying level in the past 24 hours! You can literally win the jackpot in this game even when you are fast asleep in your warm bed!
To enjoy one of the most innovative online slots in the world, join Betfair Casino and take a spin with Everybody's Jackpot today.
SUGGESTED SIMILAR GAMES
Check out these great Jackpot Slot games available at Betfair Casino:
Stay safe without missing out on any of the action by choosing Betfair. We have a mighty collection of slots that should fire up your imagination.
PROMOTIONS
Don't let the chance of claiming a juicy welcome bonus slip past you. Join us at Betfair and you will soon be playing in style thanks to our range of great promotions and our welcome bonus!