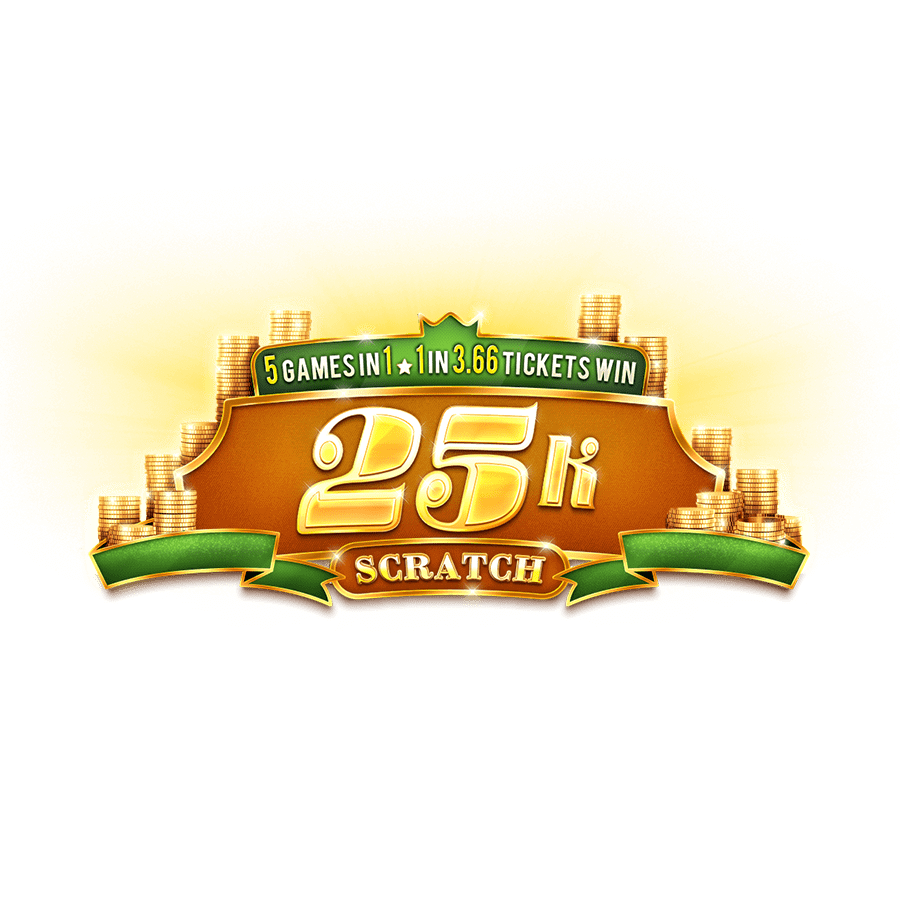 25k Scratch
PLAY 25K SCRATCH AT BETFAIR CASINO
25K Scratch from Red Tiger is a vibrant and fast-paced online scratch card game. With four games and a bonus feature, 25k Scratch is both entertaining and varied.
HOW TO PLAY 25K SCRATCH
Getting stuck into 25k Scratch at Betfair Casino is a straightforward affair. First, you select your bet size with the "Other Cards" button in the bottom-right corner of the screen. After that, just press the "Buy Card" button on the bottom right-hand side of the play area. Then you can use a coin to scratch off individual spots. Alternatively, it's possible to opt to reveal all the areas at once.
The set-up of 25K Scratch goes like this, each card is a different game: 
1. MATCH WITH YOUR NUMBERS
The first game will give you two lucky numbers. Match one or both numbers to the six numbers on the card and you'll win the corresponding amount. Diamonds will double winnings for this game.
2. SUM OF 7
The next game requires you to make the sum of seven with the numbers shown in the first two boxes. If you make seven then you'll win the amount shown in the final box. There are two rows, meaning you have two chances to win.
3. MATCH 3 SYMBOLS
In the third game, you must match three symbols in the 3x3 play area. You'll instantly win the corresponding amount shown in the paytable.
4. MATCH 3 AMOUNTS
In the final game, you must find three matching amounts in the 3x3 play area. If you can achieve this, you'll instantly win the amount you matched.
BONUSES
An interesting feature is that each card offers a bonus game where the bonus can be one of three prizes. From a cash bonus, to additional cards or a multiplier that gets applied to the total winnings from your card, it's great to know that there are extras up for grabs.
OTHER SUGGESTED GAMES
If you enjoy the action offered in 25k Scratch, we'd recommend giving Lion Storm or Sky Warrior 1942 a try.
ONLINE BETTING EXPERIENCE AT BETFAIR CASINO
Betfair Casino combines more than a thousand slots, table games and live dealer games to create a market-leading online casino experience. And don't miss out on the generous welcome offer!